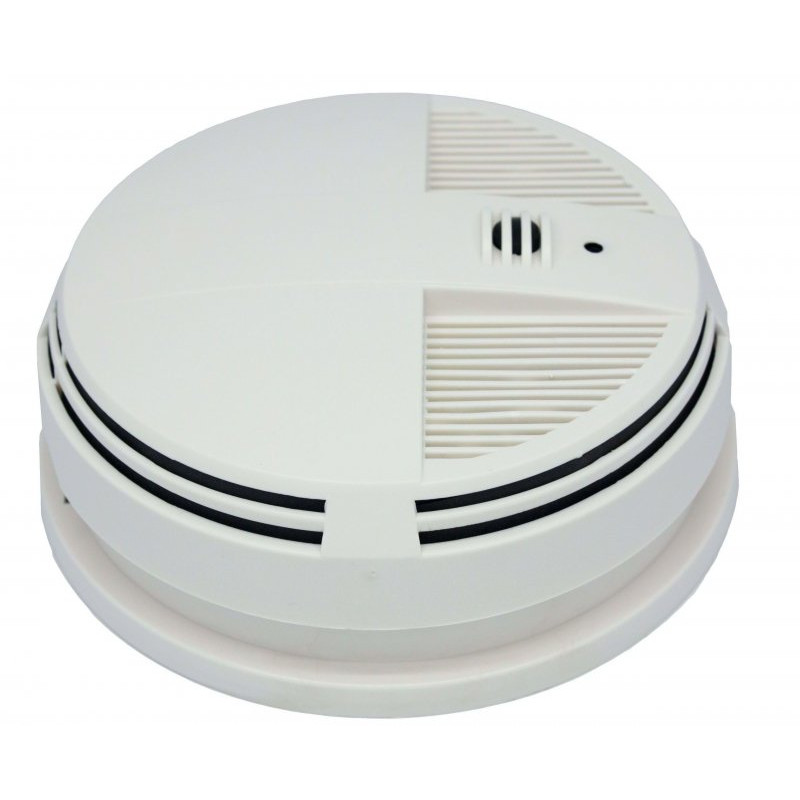  
SPECIFICATIONS:
Video Compression H.264
Record Resolution 1280 x720
Recording Frame Rate 6/8, 13/15, 25/30 fps
Choose from three Time/Date Stamp Formats: 1)yy-mm-dd, 2)dd-mm-yy, 3)mm-dd-yy
Firmware Upgrade through Micro SD card
IR remote control
Operation temperature 0~+50℃
Playback Fast Forward, Backward: x2/ x4/ x8, Frame by Frame
Playback Search By Time, By Event
Recording Quality 4 Levels adjustable (Super, High, Normal, Standard)
Micro Memory Card (up to 64GB SDHC Toshiba and Samsung EVO)
Video Recording Modes: Continuous, Motion, and Scheduled Recording
Playback mode via device itself or Secure Play back with bundled software
<b>Camera specs:</b>
Image Sensor: CMOS 1/3 Digital 720P
FOV 140 degrees"
BOX INCLUDES:
8GB SD Card
Remote
RCA Cable
Manual

 
Built-in WIFI Smoke Detector (bottom) by Zone Shield®
It may not be functional but it looks very much like a smoke detector. Hidden is a high Resolution HD Cam and DVR that has a night vision capacity with an invisible IR and multiple modes of recording. For long term surveillance, you can use an AC power.
Secure Transaction. SSL 256 Bit Encryption. 100% Guaranteed Safe & Secure Transaction

FREE UPS Ground 3-5 Days. Items purchased before 3PM CST ship same day

Return policy - All defective items or damaged while in shipment 30 Day Return Policy