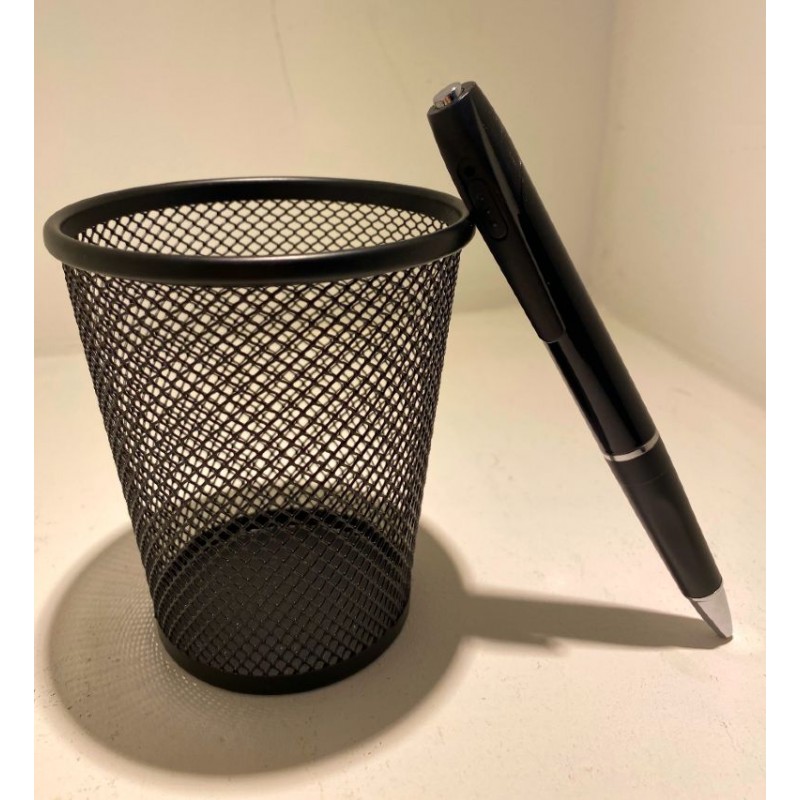  
Pixels
  2.0M pix CMOS)
Resolution
 1920*1080
Video format
 AVI
FPS
 30fps
View
 72 degree
Battery capacity
 250MA
Video record time
 1 hour
Support memory card
 32GB externally
Storage per minutes
 1GB/15min
Spy cameras are hidden in all sorts of everyday objects these days, but one of the most popular is undoubtedly in seemingly ordinary looking ink pens.
A spy pen camera is rather taboo when you think about hidden audio and video recording devices. They've been around for some time and were made popular by Hollywood in all sorts of different movies and television programs over the years.
How many times have you watched a detective show or James Bond type film and seen the "good guy" win the day by catching someone via the use of a spy camera pen or other similar recording device? Probably too many to count and that's one of the big reasons why they've become so popular in modern society.
All of the other hidden camera toys and devices you see nowadays, like nanny cams and clock hidden cameras and others, came to be due to the popularity of the original spy pen camera.
They say imitation is the biggest form of flattery right? Well here's a perfect example of that time honored saying.
While the basic concept still remains the same, the quality of video in these spy pen cameras is something that's gotten a lot better over the years. HD video resolution in your favorite spy camera pen is as good today as it's ever been, sometimes even including night vision and increased battery life in many models.
The SD card and memory card storage has also gotten better in the more modern versions of spy pen technology. Whether it's 16gb, 32gb or even better, this has been one of the major advancements in spy camera technology over the last decade.
A quality spy camera pen is a great way to keep an eye on people without them knowing it. Just set it on a counter or on the mantle above your fireplace and it will record whatever audio and video that's in its field of view.
Just be sure that the camera or cameras you choose have enough battery life to cover the amount of time you'll be away from the home. To this end, it's probably best to purchase an item or items that feature motion detection, so it's only recording when movement is detected in the room.
Okay, let's go over a few things to think about before determining the spy pen or spy pens that are right for you:
Spy Pen Considerations
Price.

This is obviously a major consideration when deciding on any type of purchase, but you'll want to find a spy pen that's at a price point you can afford. Maybe you can even search and find a special offer. But while price is important, you also want to be sure that the product is good enough to do the job you want it to do. In other words, price is an important factor, but don't let it be the only one.

Customer Reviews.

Do a little research online and read as many customer reviews on the product you have in mind before deciding on a final purchase. Read what others have to say and listen to their experiences and then proceed accordingly.

Support.

Does the spy pen you're interested in purchasing come with an instruction manual and any kind of customer support so you can ask a question if there are any problems? You may be an old hat at this and not need support, but it would still be good to have it just in case.

Adaptability.

Is your spy pen adaptable to your computer, your cell phone or other electronic devices? If you want to upload to your PC via USB port, for example, you'll want to make sure that the two devices can "talk" to each other.

Video Quality.

Ask for a demonstration, either online or at your favorite store like ACES Spy Shop San Antonio, to be sure that the audio and video that's being produced is what you want. The last thing you want is to upload your video to the computer thinking it will be 1080p or better and have it be poor quality. Next to price, audio and video quality is probably the most important factor. So be sure that the audio and video is up to par and that you're going to be happy and satisfied with it.
Battery Life. Be sure that your battery will function for the amount of time you need it to, or even more. You certainly don't want the audio or video dying in the middle of an important moment.
Full HD 1080p Pen
This stylish pen is cooler than you think, inside this instrument there's a pin-size camera that can record up to fifty minutes in full 1080p HD and includes an 16GB memory that can be upgraded to 128GB. A hidden on switch that lets you control your experience and a fast USB interface design which allows for a smooth usage makes this pen a must have.